Bathroom Renovation Costs in Australia – What Can You Expect To Pay?
Your bathroom is one of the most important rooms in your home. It's used by family, friends and guests. At times it's a sanctuary for relaxation. But it's also a comfortable environment for completing daily rituals and emerging refreshed. With so many boxes to tick, choosing to renovate or redecorate your bathroom is a big decision.
If you're at the start of your bathroom renovation journey and wondering how much it will cost, this guide is an excellent starting point. Based on industry findings and survey's you'll get an overview of:
The average bathroom renovation cost in Australia
What variables influence the cost of a renovation
Suggestions of what you can achieve with a small, medium and big budget
Hiring the right tradespeople and how much they might charge
How to find the cost of your bathroom renovation.
By the end you should have a clearer idea of how much you need to budget to get the bathroom upgrade you want.
The average cost of a bathroom renovation in Australia
According to the latest findings from the Housing Industry Association, the standard bathroom renovation cost in a new home is $16,430. Homeowners upgrading their bathroom as part of a renovation spend a little bit more, with the average cost being $17,522.
Of course, it's possible to renovate your bathroom for much less than $17k. In fact, the Houzz 2017 bathroom trends study for Australia found that homeowners aged 35-54 spend an average of just $12,700. And those over 55 spend even less, splashing out just $11,900 to renovate their bathroom.
Why the big differences in average costs? It comes down to the many variables that can influence the price of a bathroom renovation.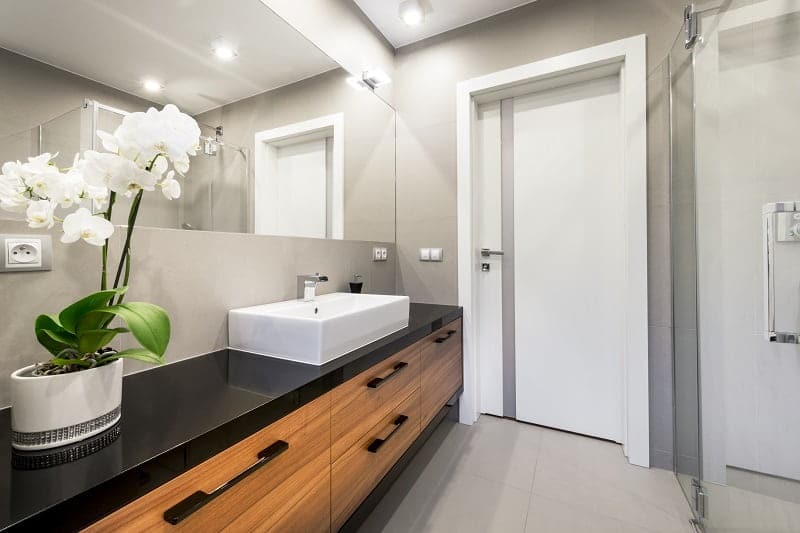 What influences the cost of a bathroom renovation?
Bathroom renovations could be a cosmetic touch up or a rip-everything-out-and-start-from-scratch job. A good way to approach your bathroom renovation is to define what you don't like about your current setup. Working out what you'd ideally like to change provides a clear picture of work to be done and, therefore, the costs attached. You might consider:
the structure and layout of the room – does it need changing?
light fittings and electrical components
the size and position of the bathtub and shower
paintwork, wall tiles and flooring
fixtures and fittings such as wash basins, taps, shower heads, screens, towel rails and extractor fans.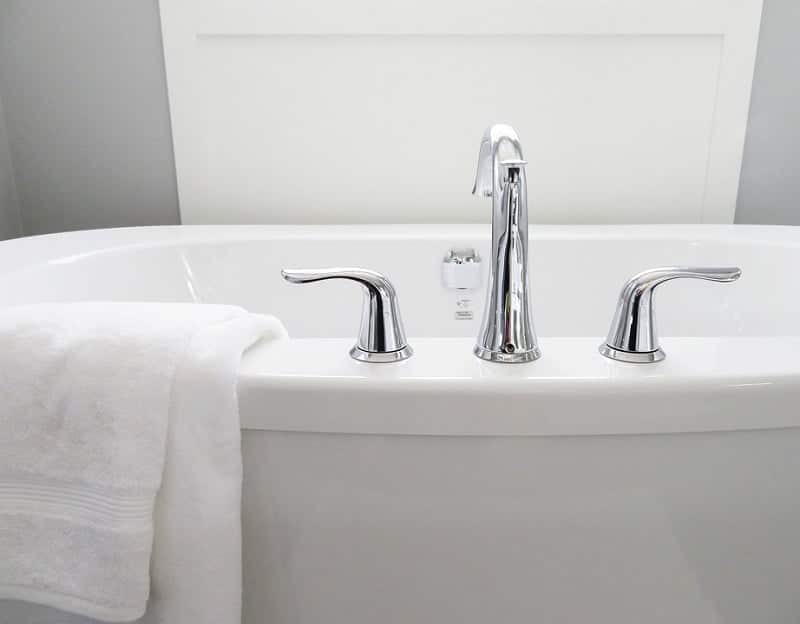 Of course, there are lots of other considerations. If you're using a professional bathroom fitting service your design consultant will want to make sure you get the absolute most from your budget, and may have inspired ideas you hadn't thought of.
Bathroom renovation costs in Australia: what can you do for the budget you've got?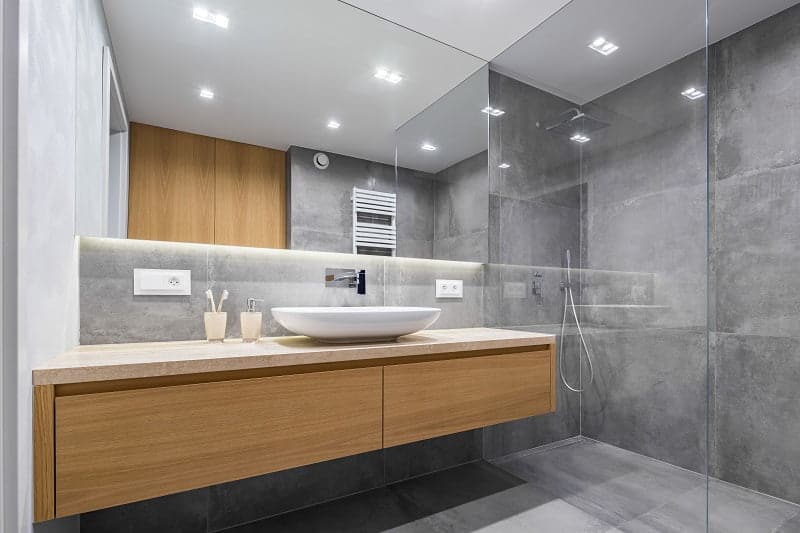 It makes sense that you want to get the most out of your budget without unnecessary overspending. Figures from the Houzz AU bathroom study found that most people spend somewhere between $5,000 and $25,000 on a complete bathroom renovation. Only 2% have a budget of $50,000 or more.
That's a big price range. Using the information provided by Houzz we've made it more manageable by splitting it into three budget brackets — small, medium and big budget renovations — and answer your question: how much does a bathroom renovation cost?
Small budget: $5,000-$10,000
When working with a small budget, approach your bathroom renovation project as a refresh rather than a complete overhaul. The cheapest and easiest way to get started is with a fresh lick of paint. You can pick up a tin of bathroom-friendly paint for as little as $47.
You may also look at replacing smaller fixtures such as taps, shower head, curtains and rails. Little cosmetic changes such as these can make a big difference, as can re-grouting areas susceptible to mould and mildew. Getting this redone can cost around $25 per square metre.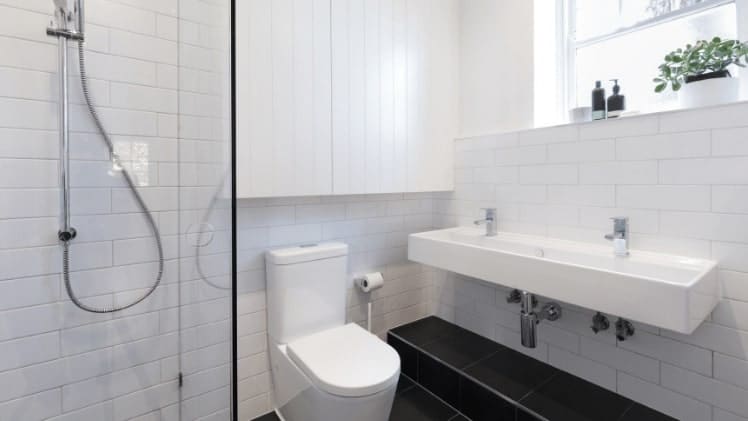 Medium budget: $10,000-$25,000
With a little more money to play with, you may want to upgrade the quality of your fixtures and fittings. You could look at little luxuries such as a heated towel rail (anywhere from $120-$700) or a new vanity and basin unit. According to the Home Design Directory, if you have a standard budget you could afford to spend around $25 per square metre on tiles for the wall or flooring.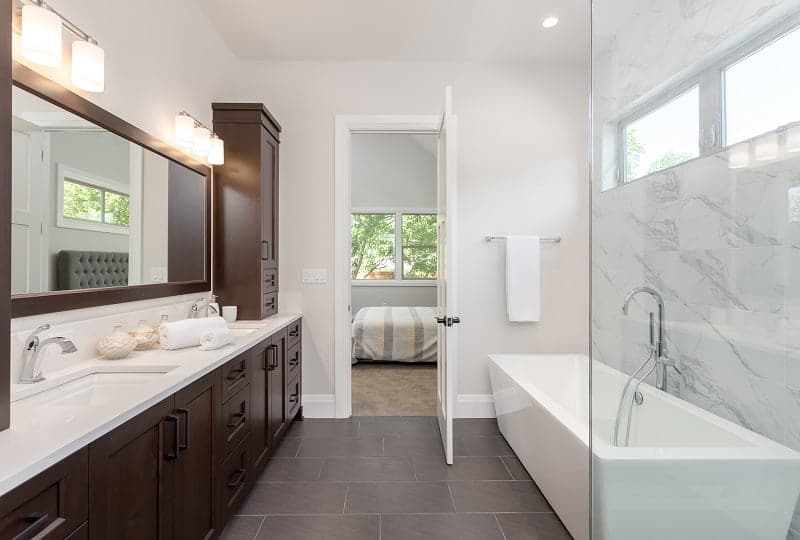 Big budget: $25,000-$50,000
If you've got a budget of $25k or more, then you must have serious renovation plans. With this budget you could change the layout of your bathroom, opting for a walk-in wet room, a free-standing bath, underfloor heating and luxurious, high-end fixtures. To fully understand the possibilities and options open to you with a budget of this size, talk to a professional bathroom renovator. They'll be able to tell you about the latest trends and styles for a sumptuous bathroom.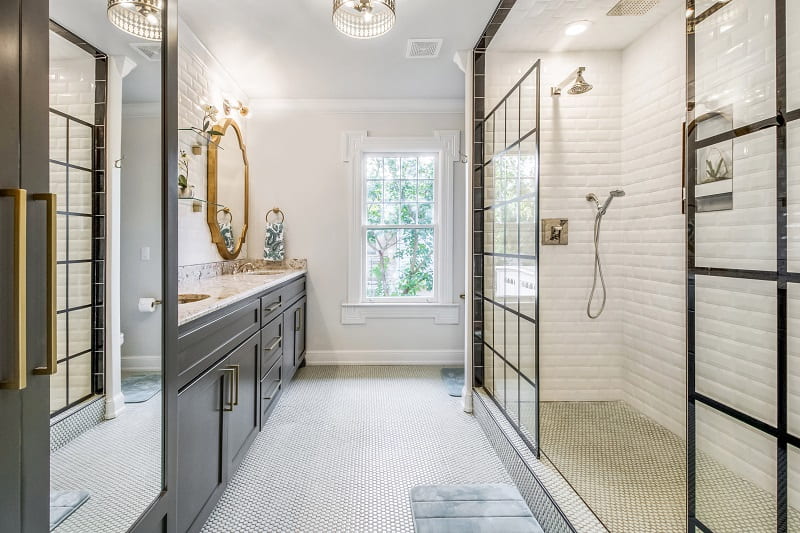 Hiring the right tradespeople for your bathroom renovation
Of course, getting the right décor and fixtures for your bathroom is only part of the story. They also need to be installed, which may involve hiring a professional. Some bathroom reno tasks should only be completed by a tradesperson, even if you're choosing to DIY other bits of the project.
For example, if you're changing the layout you may need a carpenter or plasterer to help construct the walls. To move any electrical points you'll need to hire an electrician. And of course, a plumber should be hired to make sure everything is plumbed in as it should be and minimise the risk of leaks or flooding.
How much do tradies charge?
How much a tradesperson charges can depend on your location, the complexity of the job and how long it's likely to take. To give you an idea, here's the average you can expect to pay for the key tradespeople you should hire during your bathroom renovation.
When hiring the right tradespeople, make sure they're correctly qualified and insured. For example, everyone on our team is a member of the Master Builders Association and licenced with the NSW Fair Trading department. As a result, our employees and customers enjoy peace of mind throughout the project.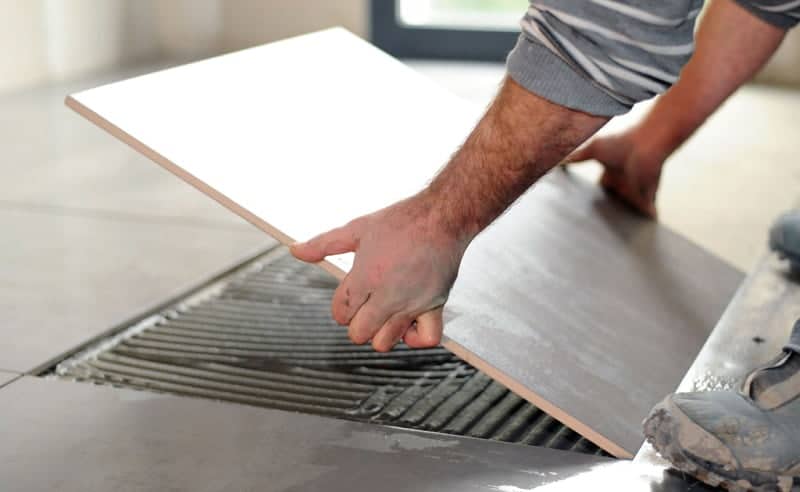 | Type of Trade | Average Rate Per Hour in 2018 |
| --- | --- |
| Plumber | $83 |
| Electrician | $75 |
| Builder | $85 |
| Carpenter | $56 |
| Plasterer | $48 |
Based on findings from ServiceSeekers.com.au
When hiring the right tradespeople, make sure they're correctly qualified and insured. For example, everyone on our team is licenced with the NSW Fair Trading department. As a result, our employees and customers enjoy peace of mind throughout the project.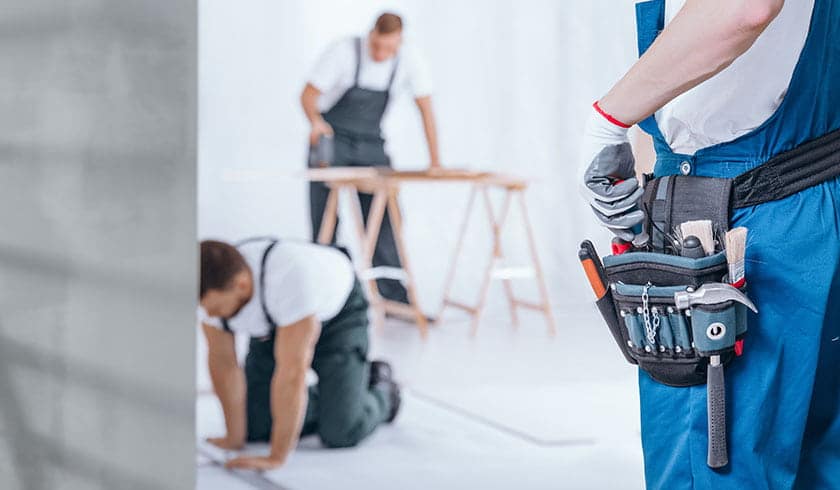 Working out the cost to renovate your bathroom
Everyone's bathroom renovation project is different. What your friends or family recently spent to get their bathroom redone isn't necessarily what you'll need to spend on yours. The best way to plan and budget is by first talking to a professional bathroom fitting service like Hunter Bathroom Renovations.
Our bathroom renovation company will provide you with a free in-home consultation so you can begin evaluating what needs doing and how much it's likely to cost.
Book your free in-home consultation. Contact us.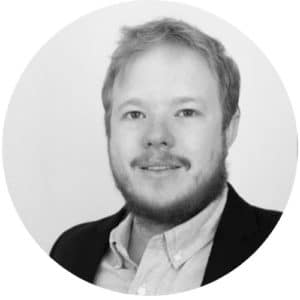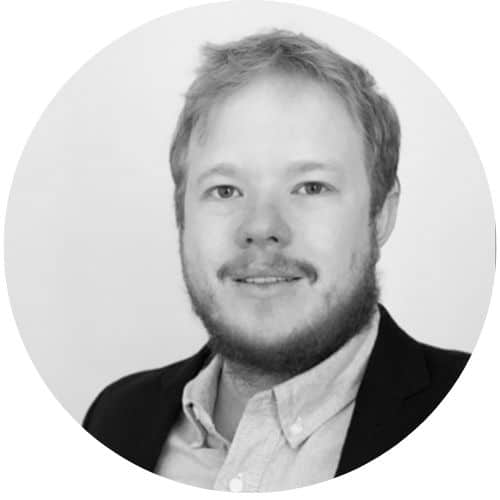 Jarrod Adnum
Jarrod Adnum is the founder of Hunter Bathroom Renovations. He is proud to lead an experienced team and support staff that are experts in their field. All staff ensure you are getting the best solutions and service for your bathroom.