Add Style & Flair to Your Bathroom Renovation Look With Our Top Bathroom Window Covering Ideas

Choosing the right bathroom window coverings for your home can be tricky. The bathroom is a unique space within your home and has specific requirements you need to consider when adding in new features; it's equal parts functional, shared and personal, which can make creative choices a difficult balance between achieving the style you love and getting what you need.
To help you on your bathroom renovation journey, here are our top recommendations for bathroom window coverings.
Best Bathroom Window Coverings
Aluminium Plantation Shutters
Aluminium plantation shutters are one of our top recommendations for window coverings in your bathroom, whether they are small windows or large windows. Like other plantation shutters, they offer great airflow, natural light control and light levels, which is ideal for a bathroom, but aluminium plantation shutters offer other additional benefits for homeowners renovating their bathroom, especially bathroom windows. 
Aluminium shutters are resistant to moisture, mildew and corrosion, which is crucial for a high moisture area like a bathroom. Aluminium shutters can also double as security shutters, providing privacy and security with an integrated locking system. 
They are customizable in colour and style, so you can match your shutters to the style of your newly renovated bathroom. Standards colours include white or a wood look, but your powder coating can be any colour you like to fit your style. They are also super easy to keep clean – just grab a damp cloth and give the shutters a quick wipe down. 
For the best quality in maintenance, quality, durability and customisation, aluminium plantation shutters are the ideal choice to finish your bathroom renovation.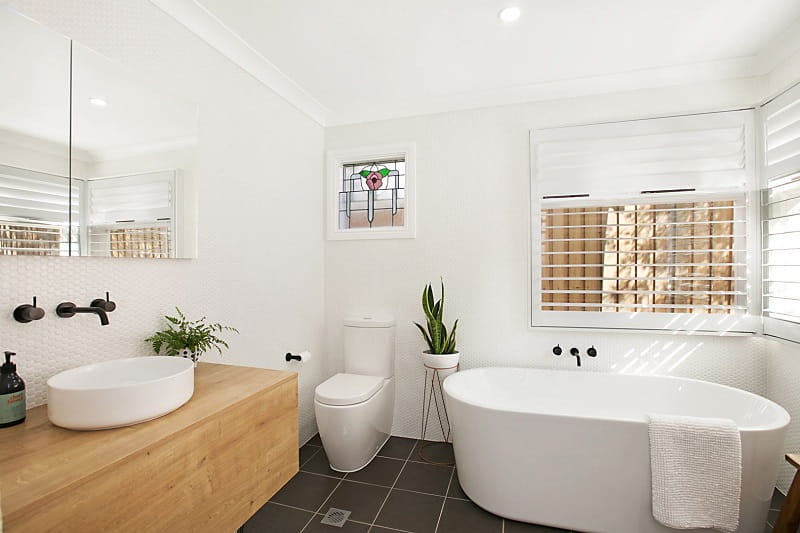 Roller Blinds
Another option for bathroom window coverings are roller blinds. Vinyl is a tougher, non-absorbent material, which means it can withstand the humidity of a bathroom.
You can get roller blinds as a standard blind or blockout blind, depending on the level of light you enjoy in your space. They can be a popular choice for homeowners with a minimalist style, who like to keep out excess light and enjoy more privacy. They are made from high quality, durable material which makes it ideal for bathrooms and especially homeowners with young kids, as they are easy to clean. However, in a wet area like the bathroom space, they will require more regular maintenance to keep them in good condition.
Roller blinds can also be added to the exterior of the home, if you'd prefer to minimise the number of features in your bathroom, but still have light control in your bathroom.
Sheer & Blockout Curtains
Curtains provide a balance of function and elegance to any room, and can provide a softer style for bathrooms. Curtains are also the most cost effective window covering option, with the most flexibility, as you are able to easily replace them if you change style or want to upgrade the quality.
Blockout curtains provide the most privacy for home owners, blocking out light and heat from the sun for increased temperature control. This can be ideal for homeowners who light to have more control over the ambiance of their bathroom, rather than relying on natural light. While sheer curtains are ideal for homeowners who enjoy letting natural light into their home, as they are ideal light diffusers. On the other hand, using a combination of curtains gives homeowners optimal privacy and light control throughout their day.
When adding the finishing touches to your bathroom renovation, many homeowners prefer curtains, as they provide many of the same benefits as other bathroom window coverings, but are more affordable and easily upgraded in future without professional assistance.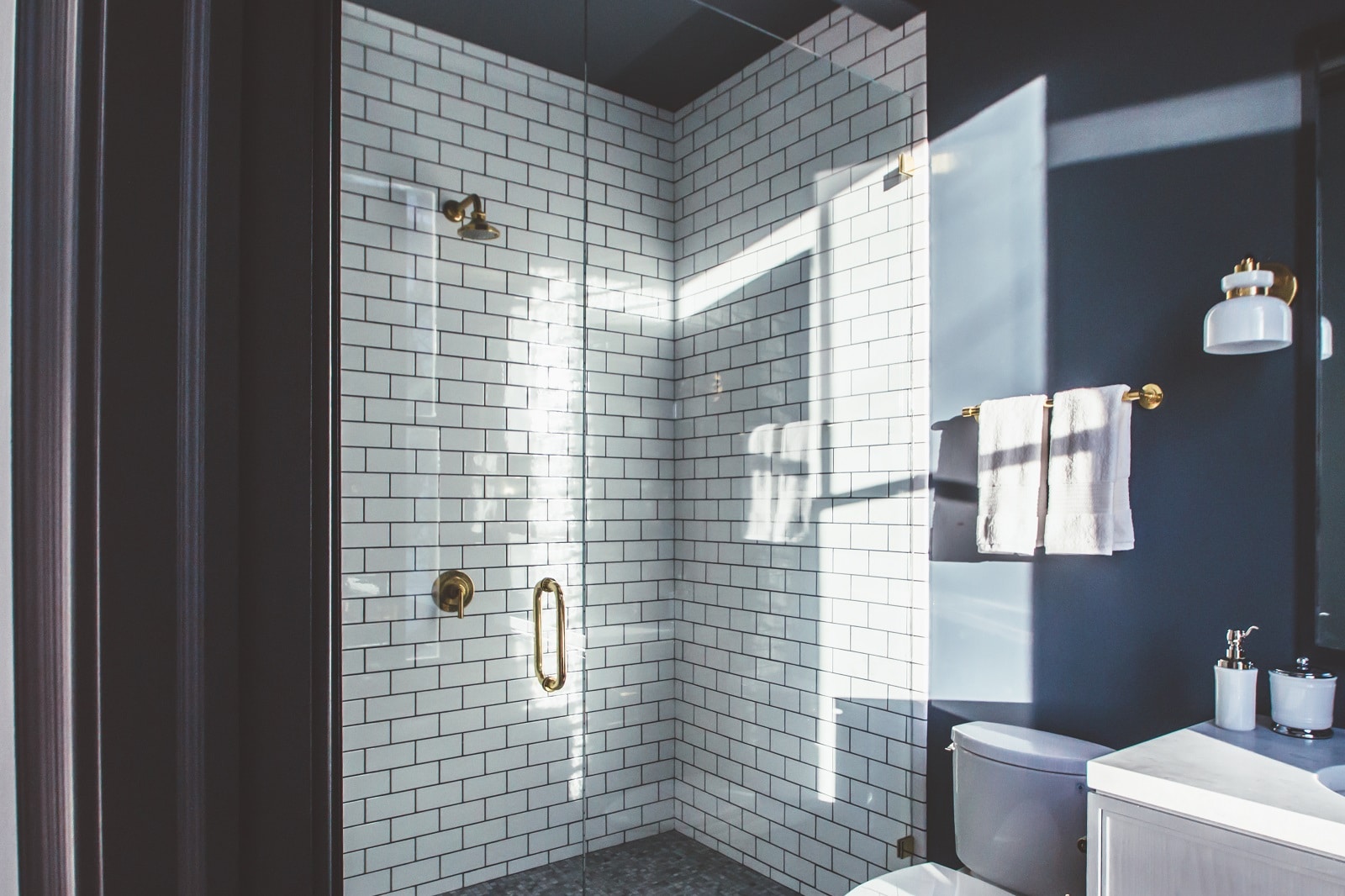 Hunter Bathroom Renovation Recommendations & Quotes
Designing your bathroom renovation is a big job with lots of small tasks involved from start to finish. We can help you through your renovation to create your dream bathroom space, from planning and sourcing the structure and materials, to the small finishes like bathroom window covering ideas. 
Jarrod Adnum
Jarrod Adnum is the founder of Hunter Bathroom Renovations. He is proud to lead an experienced team and support staff that are experts in their field. All staff ensure you are getting the best solutions and service for your bathroom.