Essential Tips on How to Choose Bathroom Lighting
Everything You Need to Know to Choose the Best Bathroom Lighting

Choosing the right bathroom lighting can enhance the function and aesthetic of your bathroom space, finding the balance between practicality and style.
There are many bathroom lighting options available on the market. To create an appealing and relaxing bathroom atmosphere you need to combine the best fixtures and bulbs to complement your design.   
You will need to consider the size, layout and the types of fixtures that fit your personal style and budget. Whether you're looking for a bright light design or a more subtle ambience, your dream bathroom can become a reality if you invest time and thought into design and planning.
Importance of Bathroom Lighting
First and foremost, suitable bathroom lighting is essential for personal safety. This is often referred to as task lighting, which enables people to carry out daily routines like shaving and applying makeup in comfort. Poor lighting can lead to mishandling tasks, frustration and may result in accidents.
Ensuring safety in the bathroom is important. Australian Lighting Bathroom Requirements outline the correct placement of bathroom lights. They also describe the type of lights that should be used.  Be sure to read these requirements. Remember all electrical bathroom work must be done by a qualified electrician.
Something else to consider are the designed bathroom zones. You will find information on the different zones in Australian Bathroom Lighting Requirements, Zones and IP Ratings. These requirements tell us what lighting can and cannot be used within certain distances of water sources. There are 3 zones and each one has different requirements.
Secondary to this, the right lighting creates a relaxing and rejuvenating atmosphere that helps people feel revitalised. This is often referred to as ambient lighting, which distributes light through fixtures or pendants to soften or change the lighting to be more stylistic.
When choosing the lighting design for your bathroom, go for a balance between ambient and task lighting.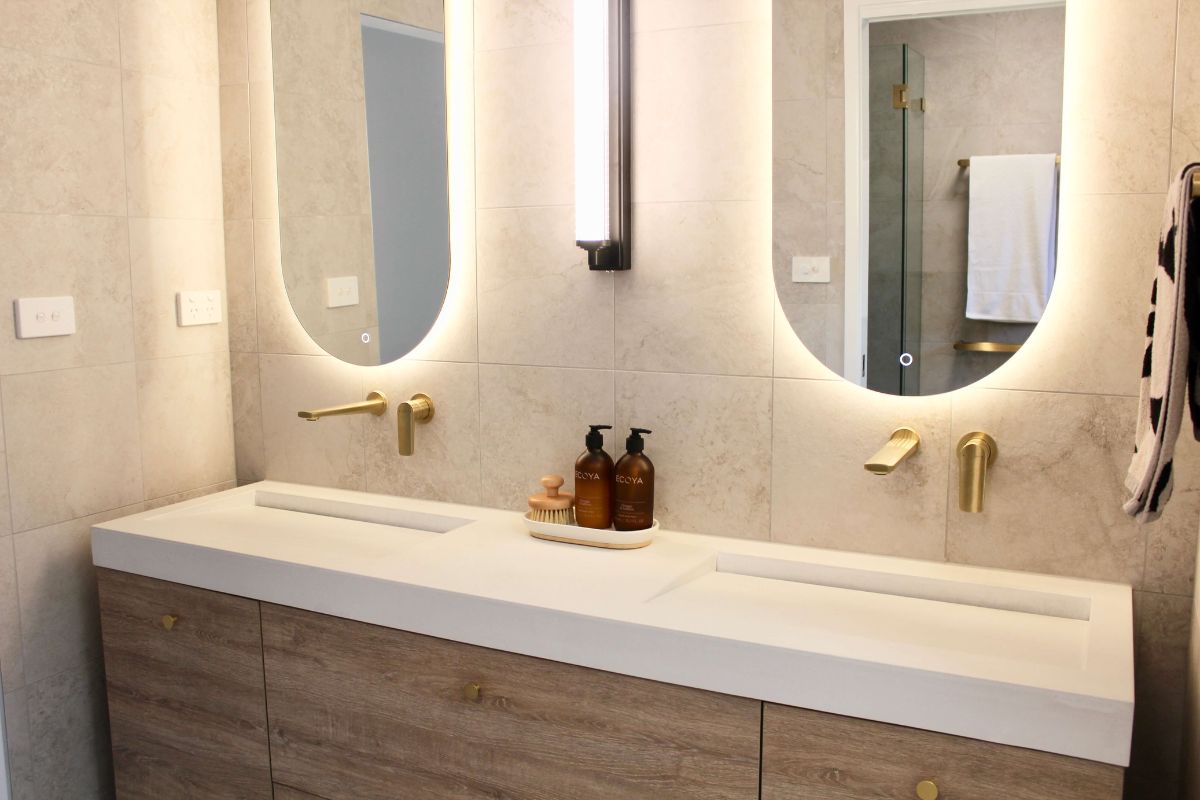 Types of Lighting in Your Bathroom

Ambient Lighting
Ambient lighting sets the brightness and atmosphere for the space. Pendant lights, flush mount, dimmers, light fixtures that change the light distribution or brightness, and recessed lights all provide ambient lighting.
Task Lighting
Task lighting focuses on specific areas for daily tasks. These lights most commonly go above or on either side of a vanity.
Bathroom task lighting may consist of:
These lights make it easier to see what's in the space clearly and make it easier to see yourself in the mirror.
Accent Lighting
Accent lighting is a good way to highlight specific features or add an extra layer of design to a bathroom. It can create visual interest and makes the space more inviting. Some common types of accent lighting are:
A good balance of ambient, task and accent lighting will create an optimal bathroom environment.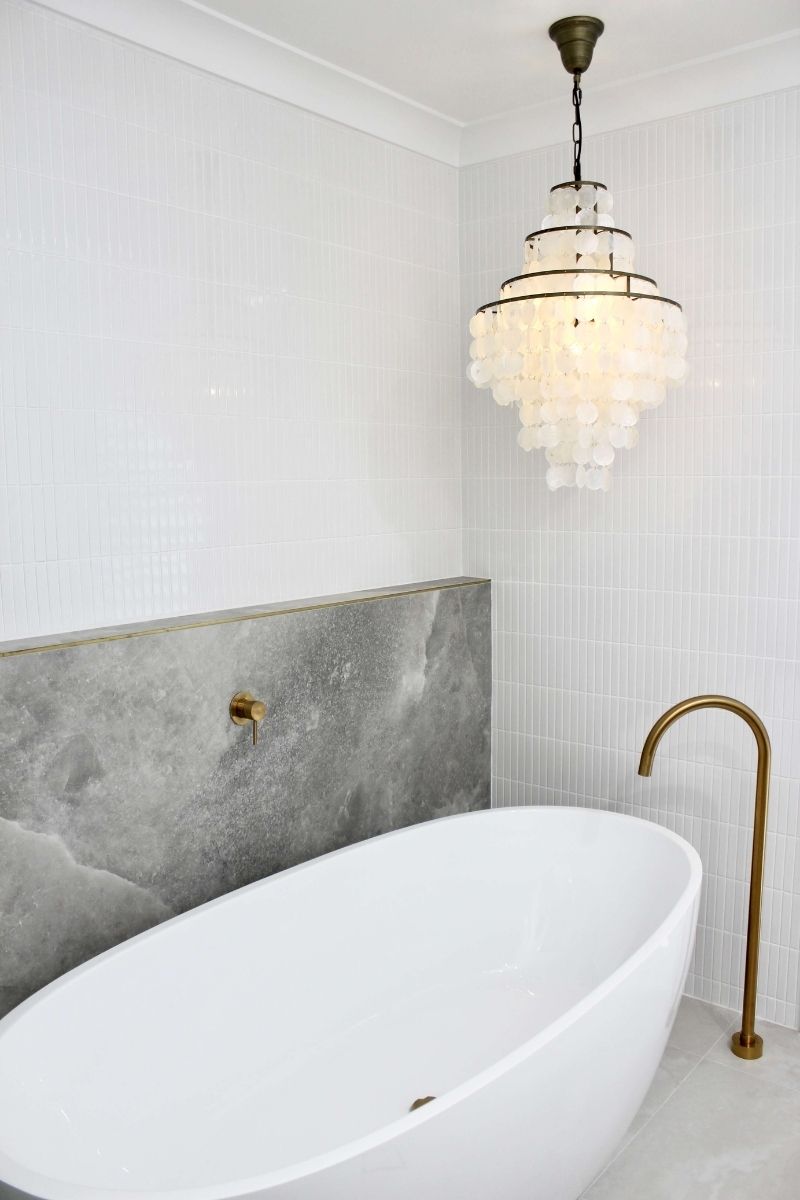 Lighting Fixtures & Light Placement
A suitable light fixture can change your bathroom from ordinary to extraordinary. Always think about the style and function of your lighting design.
Ceiling Lights
Ceiling lights are a popular choice for providing general illumination in a bathroom. They can be mounted onto the ceiling or suspended from it, depending on the chosen style and design. Some popular options include:
Flush mount lights are mounted to the ceiling. A single flush mount light can add a clean and streamlined look.
Semi-flush mount lights extend slightly from the ceiling. They create a less compact look.
Pendant lights can be suspended from the ceiling. A pendant light can really add a touch of elegance to the bathroom.
When it comes to this type of fixture, you should consider the style, size, and position of ceiling lights when planning your bathroom design.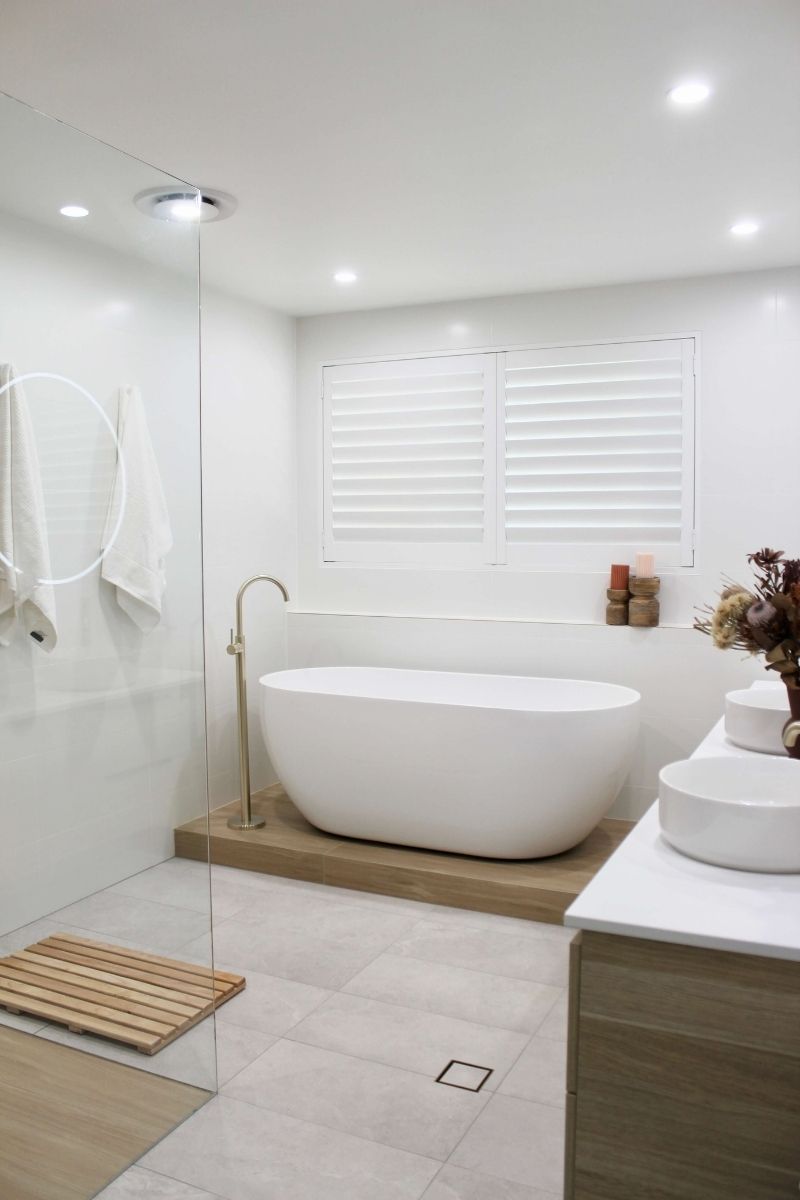 Wall Sconces
Wall sconces may be placed either  side of mirrors giving task lighting. When you select wall sconces consider:
Bulb type can be LED, incandescent, or halogen.
Fixture size should enable sconce to fit neatly in your space.
Finishes can be bronze, brushed nickel, or chrome. This will add elegance to your space.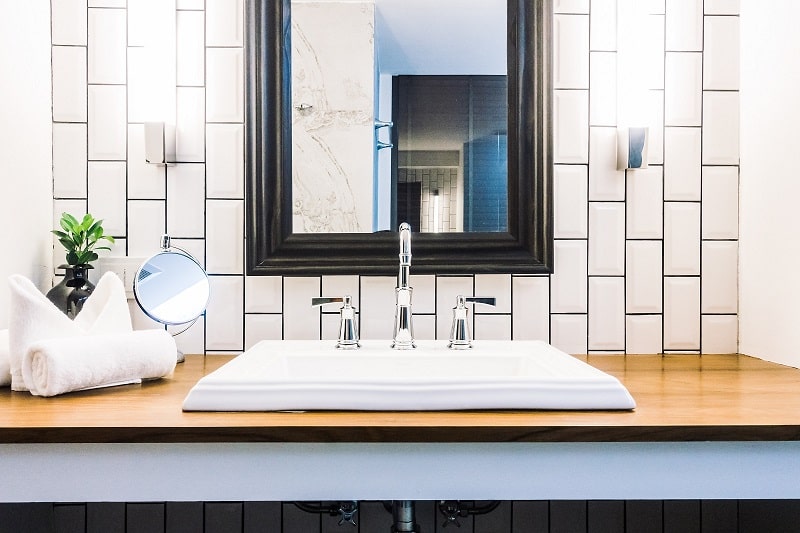 Vanity Lighting
Bathroom vanity lighting can give ample lighting around your bathroom mirror. This makes shaving or applying makeup easier. Vanity light fixtures come in a range of styles. Consider the following:
The number of bulbs will depend on your space and the mirror style.
The style can be contemporary, traditional, or transitional.
The vanity lights finish should match other space features to give a cohesive look.
Recessed Lights
This type of light may be installed into the ceiling or wall to create a sleek, modern appearance or highlight certain areas of your bathroom. Consider the following tips when choosing recessed lights:
Optimal positions are above the shower, above the toilet, and on either side of the vanity.

Options for different trim styles.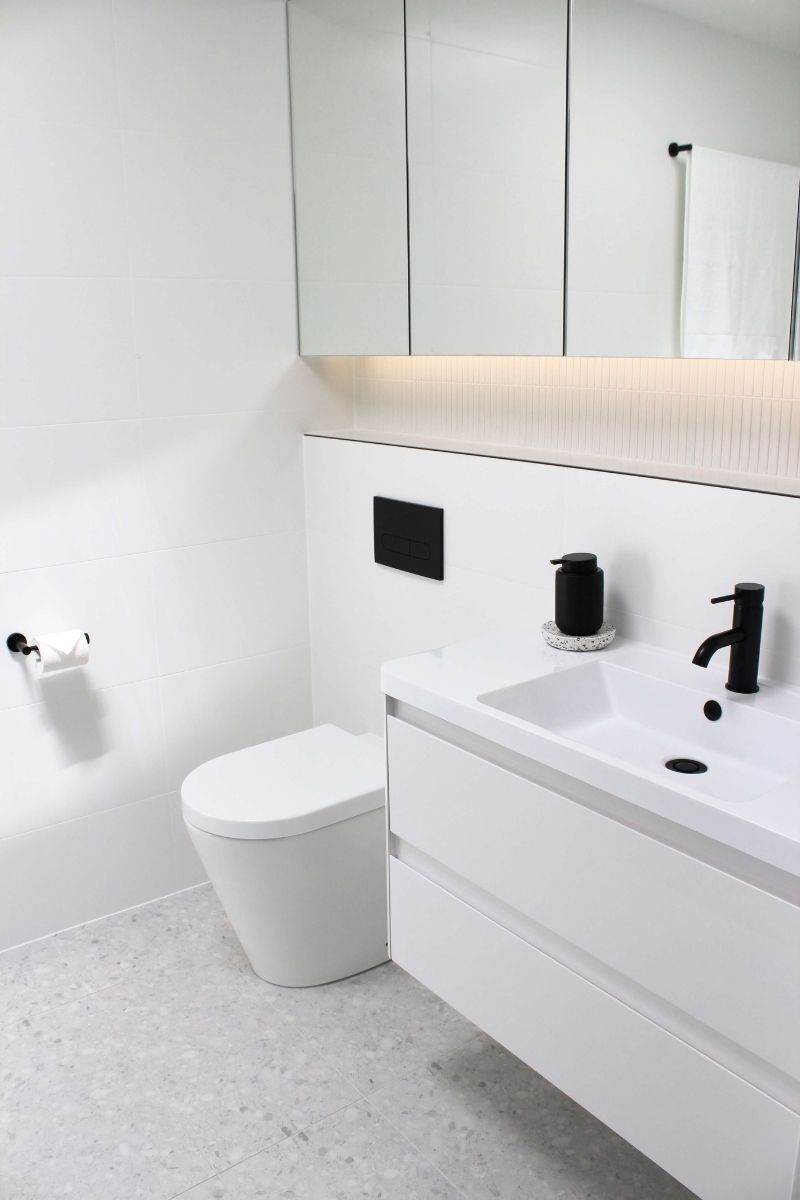 Shower Lighting
Shower lighting is a secondary area of task lighting. Be sure your shower area is well lit and avoid recessed lighting or downlights as the primary light source. Keep in mind that all shower lighting should be designed for wet or damp environments to ensure safe and long-lasting use, while also meeting Australian safety standards.
Safety Considerations

How Many Lumens Should You Use for Bathroom Lighting?
When planning bathroom lighting, safety must be the top priority. Bathrooms have a mix of water, electricity, and various surfaces creating potentially dangerous spaces .  You must follow electrical safety guidelines and consult a qualified electrician before starting. 
Bathrooms need the brightest lights in the home outside the kitchen.  Sidelights such as sconces work well to illuminate the sides of the face and reduce shadows. Overhead LED downlights can highlight places needing the most attention for cleaning. There is no one-size-fits-all solution. There are guidelines for appropriate lumens for different areas in the bathroom:
Task lighting (e.g., vanity area): 700-800 lumens per fixture
Ambient lighting (e.g., ceiling light): 1,000-1,200 lumens
Accent lighting (e.g., decorative lights): 300-400 lumens 
Lighting should have an Ingress Protection (IP) Rating, which shows the level of protection against dust and water. For example, an IPX4 means it's protected against splashing water, or, an IPX7 indicates it can withstand temporary immersion in water. 
Energy Efficiency
Energy-efficient bathroom lighting is important in reducing energy consumption and environmental impact. There are no requirements for lighting products to have an Energy Rating Label in Australia. Some products must display technical details. This should include   light output in lumens and power in watts.
LED lights have a longer lifespan, lower energy consumption, and reduced maintenance costs. Compact Fluorescent Lights (CFLs) were once considered the best choice for energy-efficient lighting. Check the label of your product for the correct information before deciding.
When choosing energy efficient bathroom light fixtures think about
Lumens per watt (lm/W): This is the measurement for how much light a bulb produces compared to the energy it consumes. .

Colour temperature affects the appearance of light. They can range from warm (yellow) to cool (blue).

Energy-efficient light fixtures must be durable. They have to withstand humidity and moisture in the bathroom environment.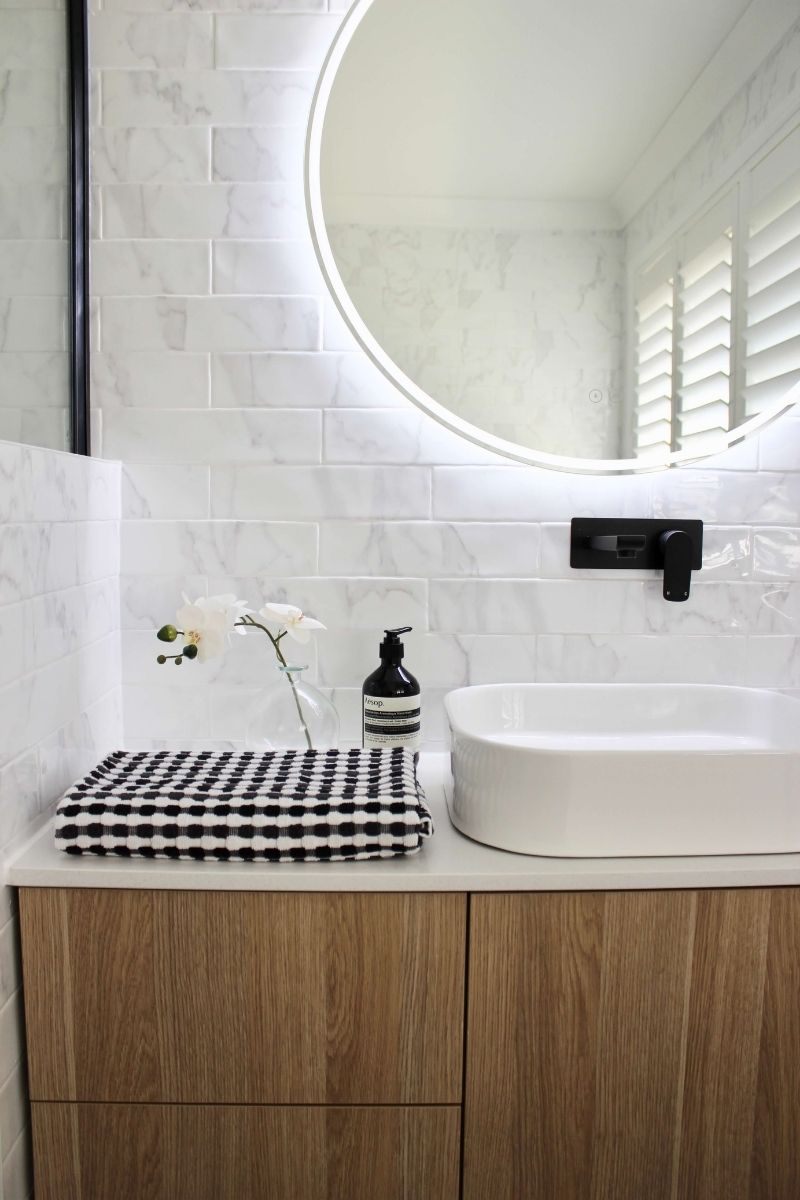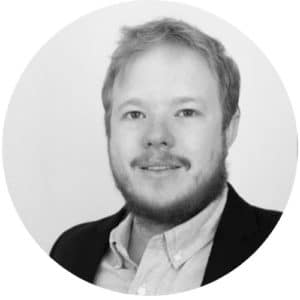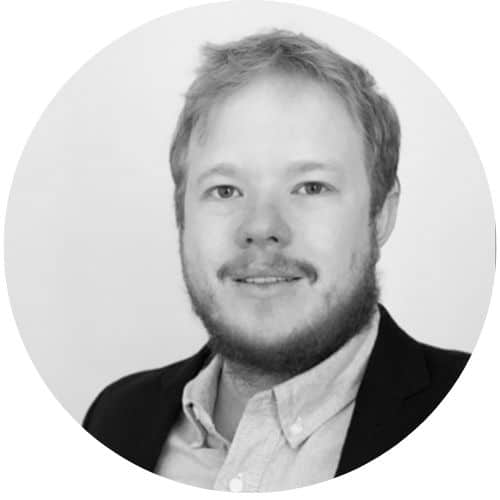 Jarrod Adnum
Jarrod Adnum is the founder of Hunter Bathroom Renovations. He is proud to lead an experienced team and support staff that are experts in their field. All staff ensure you are getting the best solutions and service for your bathroom.